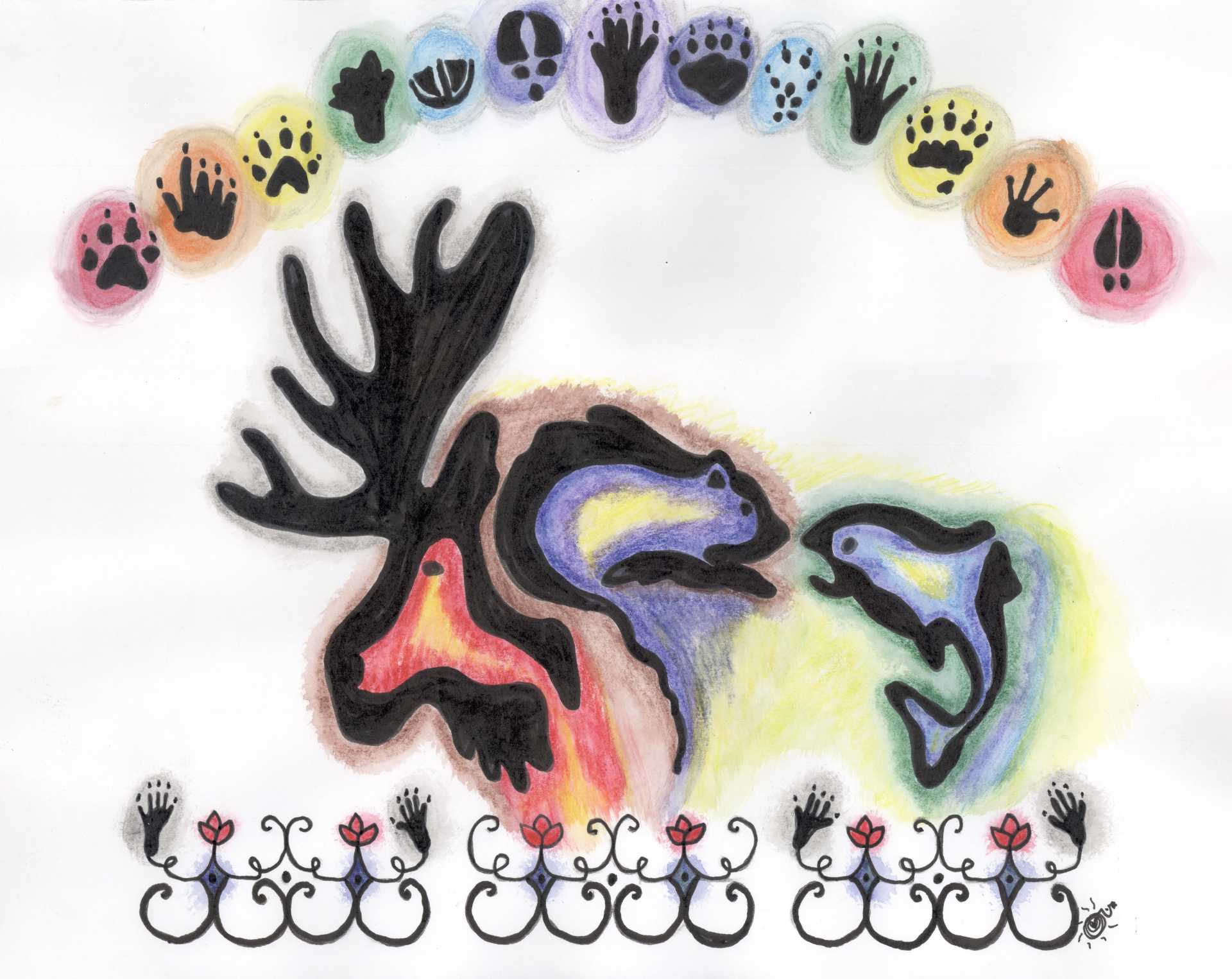 The muskrat is in the centre because of its strong symbolism through its role in the legend of the creation of Mother Earth where it supports Turtle by bringing a handful of soil back from the aquatic depths ... Muskrat is also significant for many nations because of its cooperative nature and its ability to use the resources around it intelligently. As for the moose, we highlight its discreet nature, its quiet presence, its observant sense and the nourishing aspect of self-giving. Salmon carries the medicine of perseverance, strength and courage: it encourages us to know how to swim against the most difficult currents of our emotional existence and to draw from them memories which will be able to guide our return to basics. The tracks of several other animals are also present so as not to forget their lessons: the wolf, the turtle, the fisher, the beaver, the goose, the bear, the wood mouse, the groundhog, the wolverine, the frog and the deer.
Home / Module 1 / Animals and what they do
Weyossisok naka keq ollukhahtuwok
Animals and what they do
Ntutemon nilun kiwhos
Our totem the muskrat
Wot weyossis sehke 'ci nilun pomawsuwinuwok naka wiciye acomuwakonol 'ci kiskomikiw.
This animal represents our people and is involved in the creation story.
Nwisokitahaman 'ciw eli kinitahat naka eli sankewitahasit.
We admire its tenacity and its discretion.
Ntoliphukun piyemkimqok 'pisun; kiwhosuwasq.
It is connected to one of our most important medicines; the muskrat root (acorus calamus).
Pihce, Wolastoqiyik tana liwiyaponik kiwhoseyak pomawsuwinuwok: Kiwhosuwiyik.
A long time ago, the Wolastoqey people were also called the muskrat people: kiwhosuwiyik.