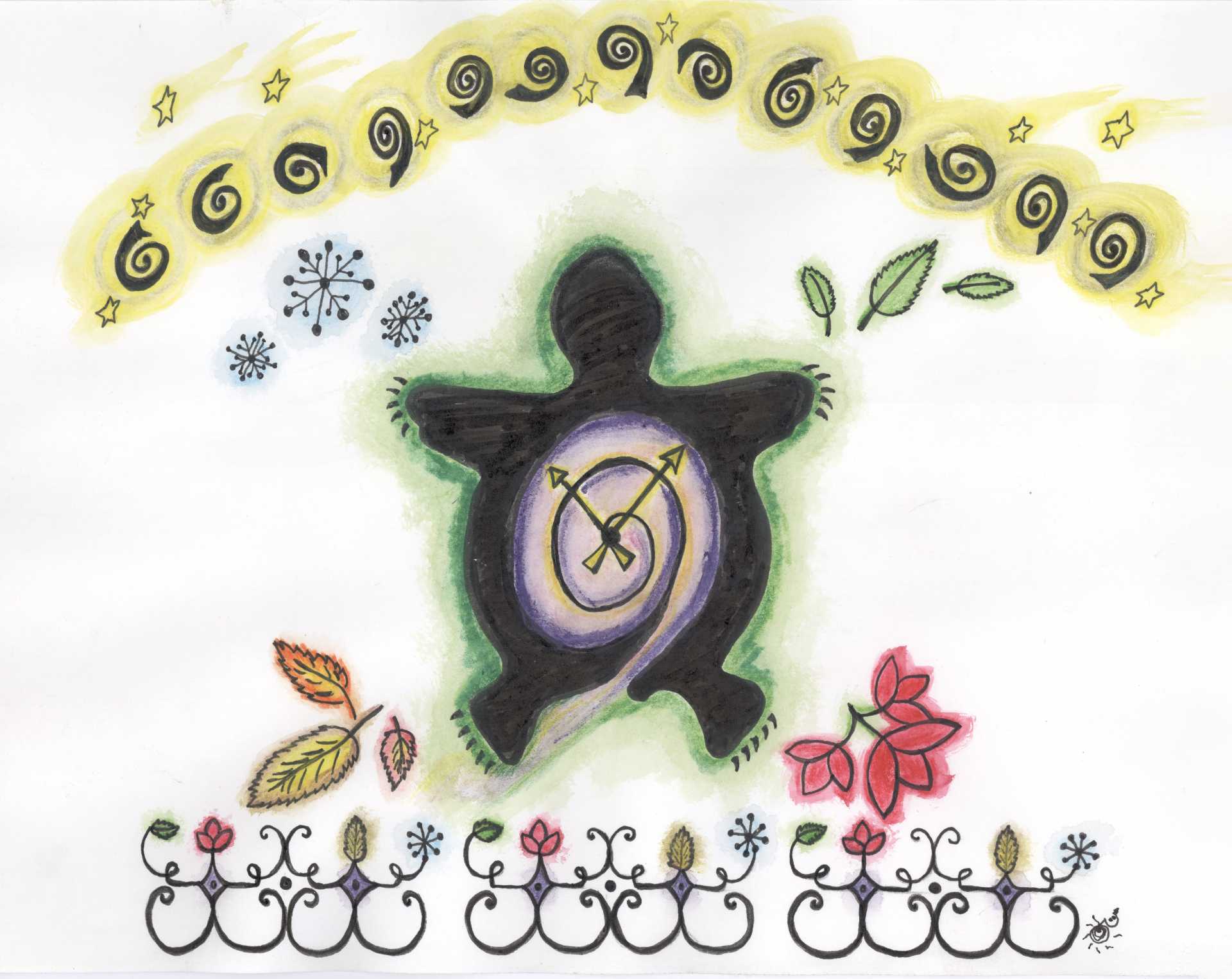 13 moons in movement illuminating us and guiding our steps ... the cycles of the seasons ... turtle, master and guardian of time ... and the green around it carrying a message of hope about the urgency of taking care of Mother Earth.
Home / Module 3 / Regarding the passing of time
'Ciw aciyak etuciyewik
Regarding the passing of time
Cihkonaqc naka tan elokimut
The turtle and the calendar
'Ktolonapemonuk mecimiw 't-uwehkahawal kisuhsol naka nipawselit 'ci aciyak.
Our people used to measure time using the sun and moon.
Mec-ote pemkiskahk, kisuhsok liwiyak ewehkasik kisuhsuwey tan elokimut.
Still today, the names of our months are associated to the lunar calendar.
Kenuk, cuwi wewitahatomonen eli-wiywahtit 'sanku nipawselit naka tehpu nisanku kisuhsok.
However, it should be noted that there are 13 moons in a year and only 12 calendar months.
Eliwiyut tehpu amuwi naka kat tahalu tan elokimucik kisuhsok.
The names are therefore estimates and don't exactly correspond to the calendar months.
Ktolonapemonun cihkonaqc not tahalu kisuhsuwey tan elokimut ipocol mecimi-te 't-ihinol 'sanku wolahqol wolokaskul.
Our ally the turtle is a symbol of the lunar calendar because it always has 13 scales on its shell.
Nit weci wot weyossis onsa Wikuwossit Skitkomiq naka Uhkomossuwi Kisuhs.
That's why this animal represents both Mother Earth and Grandmother Moon.