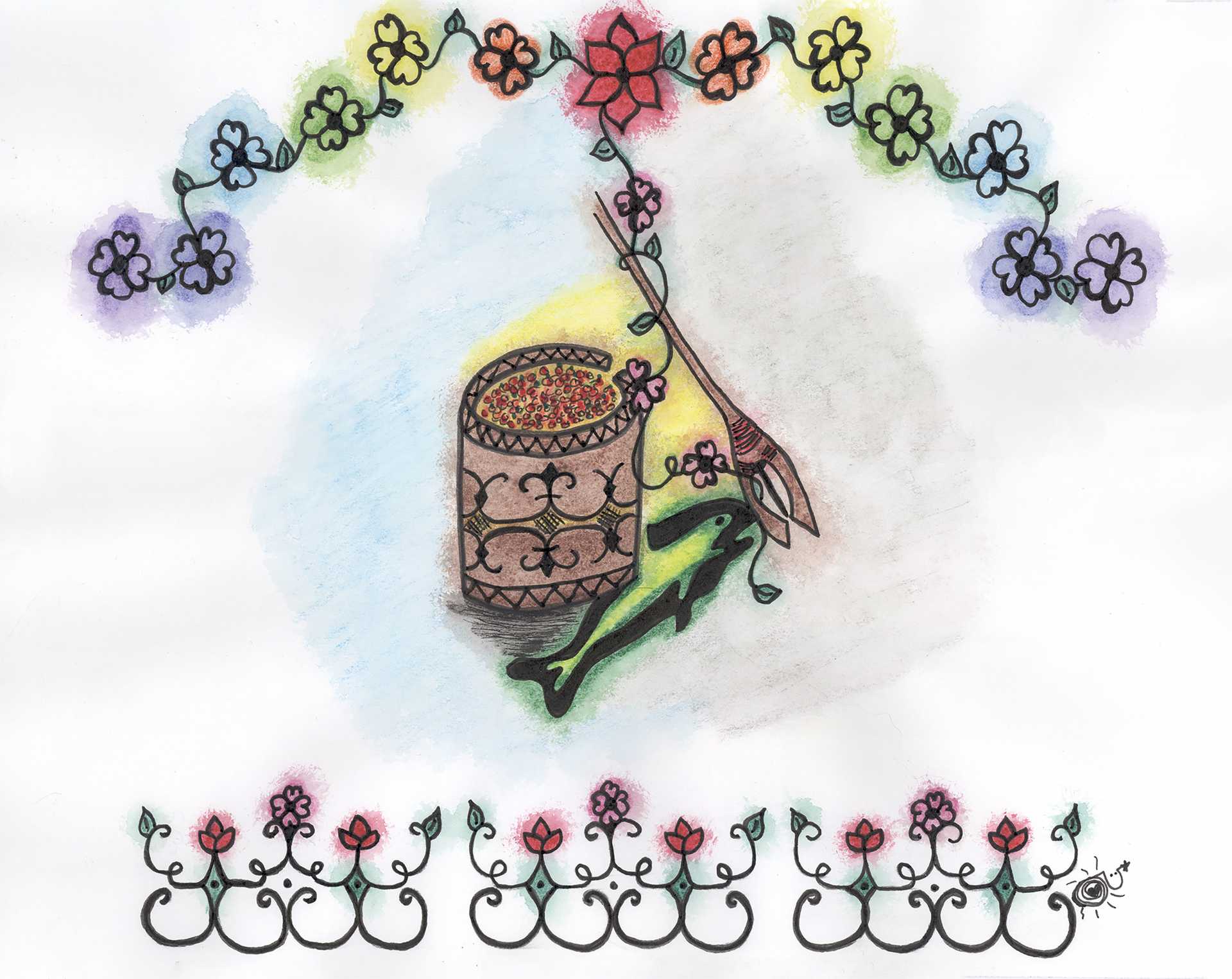 Flowers represent the countless teachings related to Mother Earth's medicines, of which women are often the traditional guardians. For women, berry-picking occupied several months of the summer. Hunting for salmon using the harpoon at night was the domain of men.
Home / Module 7 / Traditional activities and roles
Eleyimok olluhkewakonol naka keq wen cuwi olluhke
Traditional activities and roles
Tan elawsultiyeq ktahkomiqok
How we live on the land
Wolastoqiyik wikultuponik yut skitkomiq 'qotamqahk kehsikoton sankihiw wici psi keq amoniw.
The wolastoqey people lived on this earth for thousands of year in total harmony with the nature.
Mecimi yalapasihtit, kansuhsok mecimi-te kotunkahtuwok, amhotuwok naka maqenikhotuwok weci-kisawsultihtit.
As a semi-nomadic nation, our ancestors always had to rely on hunting, fishing and gathering to survive.
'Cel peciw pemkiskahk kehcikotonhaticik ntotehkimkun weci nomihtuweq kcihkul naka sipiyil tahalu kcitpok wetawsultiyeq ipocol psi-te keq milkunen weci kisawsultiyeq.
Even today, we are taught by our elders to see the forests and the rivers as sacred sources of life as they offer everything we need to live.
Aqamok nit kat tehpu wicuhketikonok, kansuhsok nikt.
They are more than ressources, they are our relatives.
Kotunkahtimok, amhotimok naka maqenikhotimok nihtol mecimi-te ntopeltomnen.
Hunting, fishing and gathering are part of our inherent rights.
Tan eci nit ollukhatiyeq nostumonen eli mec wiciyutomeq yut ktahkomiq : Wolastokuk.
When we practice these activities we reaffirm our sacred connection with our territory : the Wolastokuk.